Lake Behavioral Hospital invites you to attend a special screening of Angst, Raising Awareness Around Anxiety.
Join us for a Free Screening & Discussion of Angst, Raising Awareness Around Anxiety. The event is on October 8th from 6:00 PM – 8:00 PM at Viking Middle School, located at 4460 Old Grand Ave, Gurnee IL. Enter Activity Entrace on the east side of the building.
Children and adolescents are more susceptible than ever to the negative effects of anxiety due to increased exposure from social media, school, and online bullying. That's why school districts and organizations throughout Lake County have joined together for this special event.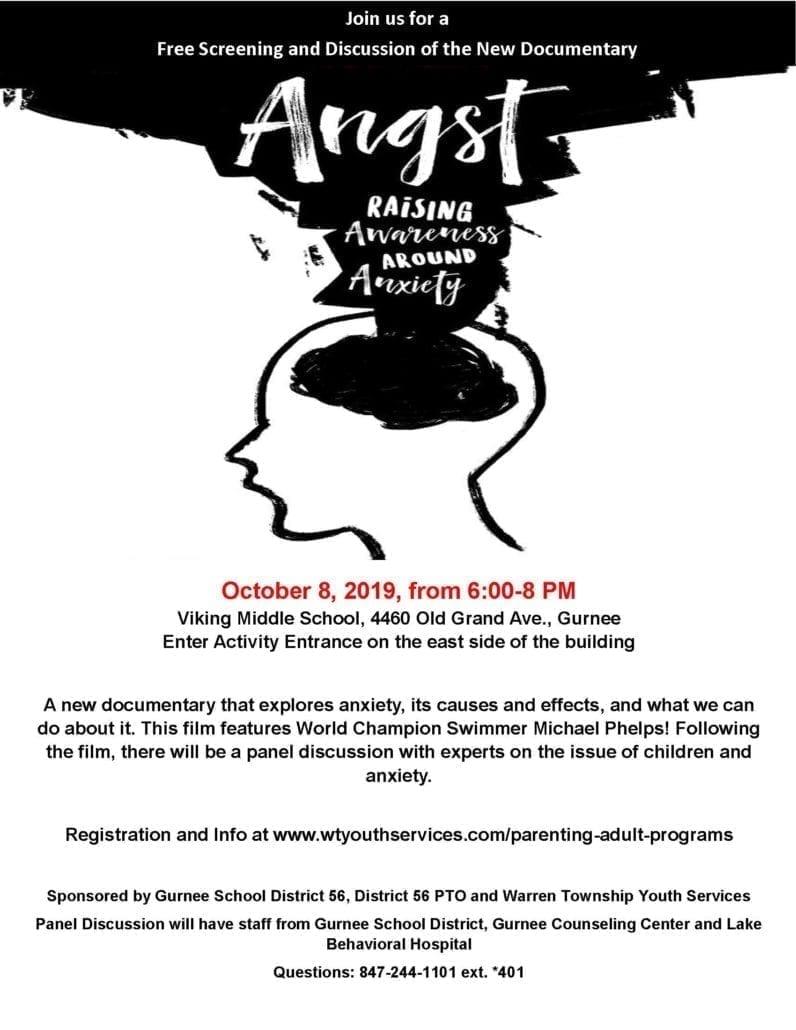 Experiencing anxiety is part of growing up. However, when someone is constantly under pressure, it can begin taking a toll on their health, particularly among children and adolescents. Recognizing these signs and symptoms early can ensure your teen receives the help they need to live a happy and normal life.
Physical signs of anxiety can manifest in many different ways. If your child complains of frequent headaches, stomachaches, refuses to eat in the school cafeteria, changes their eating habits suddenly, is restless, fidgety, hyperactive or distracted, constantly tenses their muscles, or has trouble falling or staying asleep, they may have anxiety.
Emotional signs of anxiety to watch for include frequent crying, becoming cranky or angry for no reason, fear of making even minor mistakes, extreme test anxiety, panic attacks, nightmares about losing a parent or loved one, or obsessive thoughts about things which may cause them harm or other upsetting topics.
Children and teens who experience unhealthy levels of anxiety may avoid participating in class activities, remain silent or preoccupied when expected to work with others, refuse to go to school, avoid social situations with peers, become emotional or angry when separating from parents or loved ones, have explosive outbursts, constantly seek approval from parents, teachers and friends, or engage in compulsive behaviors.
Lake Behavioral Hospital is equipped to treat these symptoms in adolescents who may already be suffering from the negative impacts of anxiety. Our specialized treatment program employees evidence-based therapy proven to help teens cope and manage their feelings.
As a service to the community, Lake Behavioral Hospital provides free mental health screenings 24 hours a day, seven days a week. If interested, please call 855-990-1900 to schedule an appointment. Walk-ins are also accepted 24 hours a day. 2615 Washington Street
Waukegan, IL 60085
Call Us 24/7 Toll Free:
(855)990-1900
Via I-94 to IL-120 E / Belvidere Rd. in Warren Township.
Take the IL – 120 E / Belvidere Rd. exit from I-94 W.
Continue on Belvidere Rd. Drive to Washington St. in Waukegan.
Lake Behavioral Hospital will be on the right, located at previous Vista Medical Center West campus.